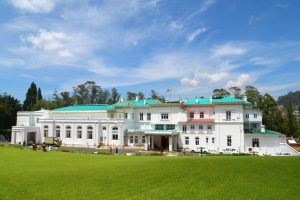 Located on the western slope of the Doddabetta ridge and accessed by a long winding road that originates from the main gate of the Botanical gardens, this summer retreat of the Governor has all the trappings of one of England's stately homes with its sprawling gardens and woodland.
In 1876, the Government decided to purchase Upper Norwood and Lower Norwood, which belonged to the trustees of Lawrence Asylum and started efforts to establish the Government House at Udhagamandalam.  The Duke of Buckingham, who initiated the purchase, took possession of both the Upper and Lower Norwood and the Garden Cottage.  But after a single stay, the Governor was convinced that the Upper Norwood was not a fit and abiding place for the Governor.  Soon after returning to Madras, the Duke proposed the building of a large two-storeyed building which can afford complete accommodation for the family and provide public reception rooms.
In 1899, a Ballroom with an anteroom was added to the Government House and in 1904 electrical installation for the whole premises was approved and installed.  Sir Arthur Havelock, Governor of Madras Presidency, considerably improved the interior of the original building, especially the magnificent and handsome Ballroom.  After Independence, the Government House was renamed Raj Bhavan.
The main building of Raj Bhavan, Udhagamandalam has a plinth area of 5886.6 sq. m. and consists of a large Banqueting Hall, ballroom, Drawing and Reception rooms, besides several Guest rooms, and office rooms.  The elevation of Raj Bhavan is 2,303 meters above mean sea level and enjoys a warm, temperate climate with an average rainfall of 1,400 mm per year.
The Banquet Hall of Raj Bhavan was given a complete facelift in 1988, in association with the Indian National Trust for Art and Cultural Heritage (INTACH) and the National Research Laboratory for Conservation of Cultural Property, Lucknow.  The Embossed canvas, which was damaged, has been restored.
The Raj Bhavan Gardens is a fascinating experience.  It consists of ornamental gardens in an area of about 9 acres, a rich lawn on 3 acres, four rose gardens, a sunken garden, and a nursery.